As part of our guest speaker training sessions, we hosted Ann Rhoades last week. Ann is the PRES (Person Responsible for Extraordinary Service) and founder of Peopleink, and dedicated to helping leaders build people-centric cultures based on core values.
Ann has served the industry in different capacities at several companies, including Chief People Officer at Southwest Airlines and is a highly sought after speaker because of her experience and values. Her humble approach to always do the right thing revolves around being consistent with behaviors and values. She has built her own values model which she shares as an example for companies to follow. Using real-life examples, Rhoades teaches you that taking care of yourself, employees, and company first is what will make clients want to work with you.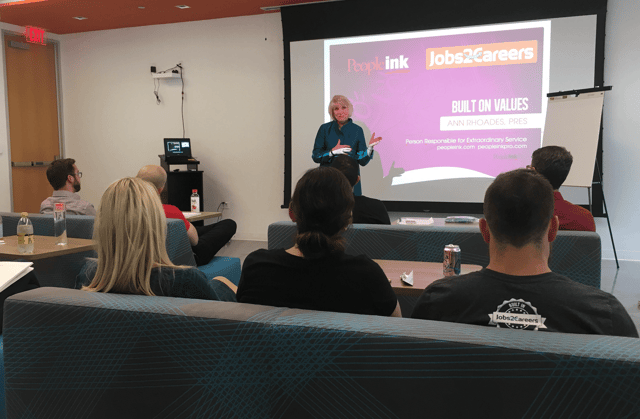 At Jobs2Careers, we believe in career development and growing managers within our company. Bruce Ge, CEO, holds management trainings monthly, on average, and always leaves employees feeling inspired with new information and ideas for productivity, communication, and more. Here, we call them #J2Cwerkperks!