As part of our continued guest speaker training sessions, we hosted Edgar Papke last week.
Edgar is globally recognized as an organizational and leadership psychologist, and foremost expert in the alignment and innovative development of organizations, teams, and leadership. Edgar has delivered over 2,700 speeches and talks and is the bestselling author of the books True Alignment and The Elephant in the Boardroom.
Nothing gets people motivated quite like money can, and Edgar placed his bets with some good old fashioned arm wrestling to get our attention. Edgar went on to discuss self-awareness, intention in relationships, and how it all relates to understanding conflict in your work (and personal) life. Through real-life examples Edgar taught us that conflict is natural, you can't avoid it—instead, create an environment of mutual respect and understanding to resolve issues.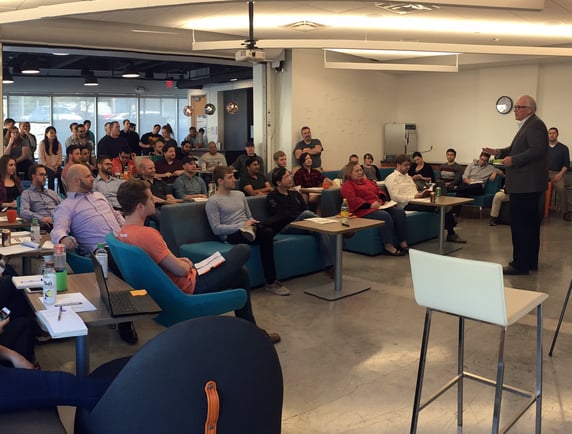 At Jobs2Careers, we believe in career development and growing managers within our company. Bruce Ge, CEO, holds management trainings monthly, on average, and always leaves employees feeling inspired with new information and ideas for productivity, communication, and more.