As part of our continued guest speaker training sessions, we hosted Gwen Resick-Rennich this week.
Gwen is an internationally known speaker and executive speech coach who uses humor, enthusiasm, and her own experience to effectively engage audiences and get them to listen to her teachings.
She presented "Executive Presence: How Do You Look and Sound as a Leader Today?" Through several interactive group discussions, Gwen showed us how talking with a purpose is the most efficient way be understood by peers and leadership alike.
Then to dive in more deeply on correcting poor speaking behaviors, volunteers told us stories personal and professional and were recorded. Watching the playback we were all able to take actionable items away from Gwen's corrections, but not before being able to tell the speaker everything they did right!
Gwen's direct and hands-on approach in teaching proper speaking habits was not only educational but fun for the entire office. And we all left with a piece of homework—don't speak to just speak, speak to be heard.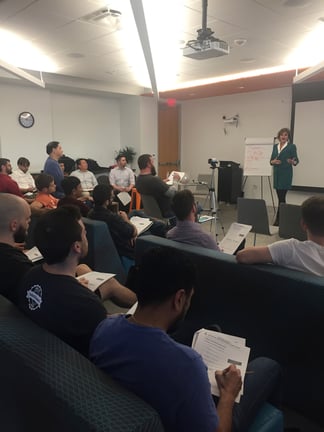 At J2C, we believe in career development and growing managers within our company. Bruce Ge, CEO, holds management trainings monthly, on average, and always leaves employees feeling inspired with new information and ideas for productivity, communication, and more.