As part of our continued guest speaker management training sessions, we hosted Marty Jacknis this week.
Marty is a nationally recognized professional speaker, executive coach, educator, and innovator in the field of management, marketing, and sales. He took us on a journey worth much more than the $2.00 bill he invested in us upon walking into the training room.
Marty went over several tactics in creating actionable and attainable goals by breaking them down into an "MPV" format, understanding different types of communication, behaviors, and perspectives. But more than that, he asked us to dig a little deeper into the meaning of our professional lives.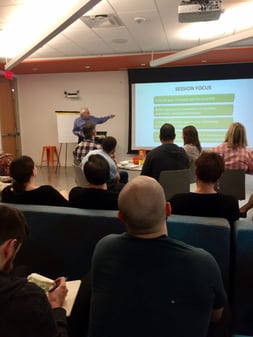 Asking ourselves what have been the life events to make the biggest impact, and who are those people? Have you told them? And how can you use that to improve someone else's life? He will give you more insights about your work ethic, communication strengths, and improvement points. To sum it up, Marty shed light on bridging together your career goals, education and training, and ultimately your execution.
At J2C, we believe career development and growing managers within our company. Bruce Ge, CEO, holds management trainings monthly, on average, and always leaves employees feeling inspired with new information and ideas for productivity, communication, and more.