Name: Bill Bittick, Senior Accountant, CPA
Hometown: Austin, TX
Current City: Austin, TX
College: UT-Austin
Life Motto: Every day is a gift.
What is your personal best/worst career experience you can recall?
I have ran into a billionaire in a hallway.
While working at Dell in SEC reporting, it was getting close to filing time and things were very hectic. I was frantically moving from one department to another attempting to get the last bit of data I needed to finish our filing requirements. I whipped around a corner without looking and collided right into Michael Dell! We both staggered back. When I realized it was him, my stomach dropped to the floor and my face became bright red. I apologized profusely, while attempting to cover up my name badge. He was very cool about it though and said for me to not worry about it, that he appreciated my "extra effort."
From your education, previous employments or life experiences, what do you feel best prepared you for your current role at Jobs2Careers?
My prior role as an auditor at KPMG required its employees to adjust rapidly and to always be looking for efficiency in everything we did. These are skills that are highly valued in a company that needs to react in a matter of minutes, instead of a matter of days/weeks/months.
What is the best part of your job?
I love being a part of a growing company that offers exciting potential and encourages its employees to think outside the box to solve issues that arise.
In your opinion, what makes Jobs2Careers different than any other job aggregator?
We have a team of individuals that are committed to not just maximizing profit, but offering an exemplary experience for our users and high quality results for our clients.
If you could max out a credit card at any store, which store would you choose?
I could definitely max out a credit card at Academy Sports & Outdoors. My family is very sports-minded and spend most of our time outdoors. My wife likes to joke with me that I can't even say the word Academy without spending $100!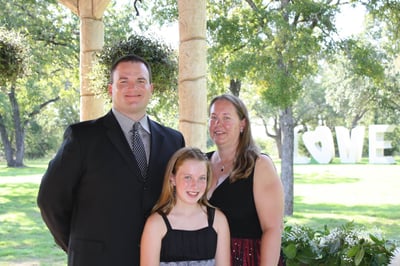 If you were immortal for one day, what would you do?
I would strap myself to a pole in the middle of a hurricane. I have always been mesmerized by hurricanes and their awesome power. Every year, I even go full weather nerd and track all the storms on my own charts.
What is the best gift you've ever been given?
My family experienced a great tragedy in our life and my coworkers surprised us with a trip to DisneyWorld. It really gave my family something to look forward to and enjoy, but also let us know we were loved and cared for. I will never forget it.
What is the best advice you can give to job seekers?
Get outside of your comfort zone. Be open to new ideas. If you are really looking for something new, don't just pigeon hole yourself into a certain role or idea. Get out and meet people, and don't be afraid to ask others what they think you would be good at. It might surprise you what they come up with.
---