In the coolest recruitment campaign we've seen in a while, "Snaplications" are now a thing. We've written about companies using Snapchat for showcasing culture and recruitment before, but McDonald's Australia just launched a hiring campaign on the social channel.
This is the first time that Snapchat has (officially) been part of the recruitment process, and the first time McDonald's has taken to social media in this capacity to gain new employees.
Snaplications, which went live in Australia on Friday, is a Snapchat filter that lets people put on a virtual McDonald's hat and name tag. Then, they must record a 10-second video talking about themselves and send it to McDonald's. According to News.com.au, McDonald's (known as "Macca's" in Australia) will "send users back to the digital careers hub, where they can download an application form."
McDonald's Australia COO Shaun Ruming calls this a "world first," saying it "gives users the ability to apply for a job — or at least begin the process — by sending a 10-second snap." Ruming learned about Snapchat from his 14-year-old daughter and saw an opportunity to reach new candidates by marketing primarily to teens.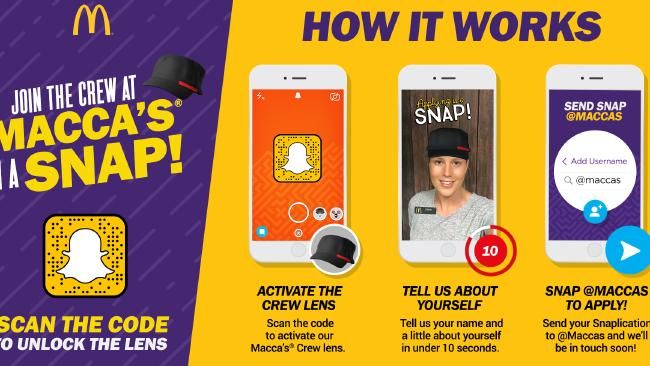 Image via News.com.au
Kudos to McDonald's for kicking this off! They've certainly reached their demographic, as most young people who apply for fast food jobs are on Snapchat. Maybe McDonald's U.S. will be next?