At J2C, we believe in career development and growing managers within our company. As part of our ongoing guest speaker management training sessions, we hosted Mike Murray last week.
Mike is the founder and Director of Creative Interchange Consultants, where he focuses on the training and organizational facilitation on a range of topics, including: strategic planning, conflict and change management, community building, and leadership development. He has conducted these seminars in all 50 states, other parts of North America, Europe, and Southeast Asia.
Mike uses client interaction to create an open environment for communication among those in attendance. His many years of experience showed as he taught us why listening plays a very important role in communicating at work, and in our personal lives. We think we're listening when we're just hearing. Listening is a skill we have to actively develop. During our training, he covered everything from classic principles to the effective behaviors that influence the success of communication. Mike's energy and passion sheds new light on the way we communicate!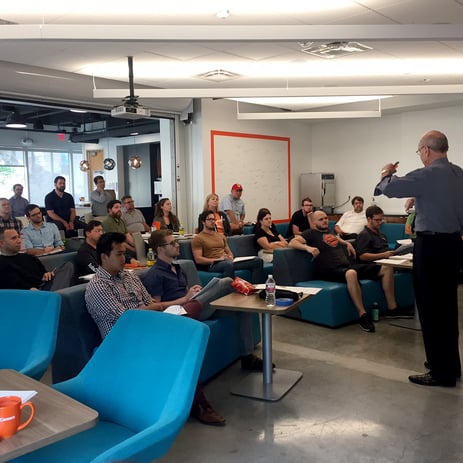 Our CEO, Bruce Ge, holds management trainings monthly, on average, and always leaves employees feeling inspired with new information and ideas for productivity, communication, and (bonus) he has employees with management skills ready to step into those positions as our company grows.